Evansville Philharmonic Orchestra
Under the leadership of Music Director Roger Kalia, the Evansville Philharmonic Orchestra has become the largest non-profit performing arts institution in the Tri-State area with a commitment to artistic excellence, diverse and creative programming inside and outside its historic Victory Theatre home, its engagement with communities throughout the state of Indiana and its ambitious approaches to music education, performance, and collaboration. In the decades since its founding in 1934, the EPO has presented a range of classical, pops, family, diversity, and holiday programming to thousands of people each year.
Each year the programming runs from September through April and offers an experience of passion, emotion, and energy to thousands of people, including: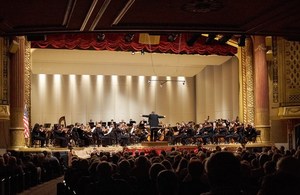 Lincoln Amphitheatre Pre-Season Concert
6-concert Classics Series
5-concert Pops Series
6-Educational Youth Concerts
2-Handel's Messiah by Candlelight (Evansville and Jasper)
Tchaikovsky's The Nutcracker in collaboration with Evansville Ballet
The Evansville Philharmonic highlights music as a legitimate pursuit that will enrich a person's development, self-esteem, and ties to the community.
EPO PRESENTS BROADWAY'S BACK, LUTHER LEWIS, TENOR ::
Date: Sunday October 03, 2021
Time: 2:00 PM



NOW THAT BROADWAY SHOWS WILL BEGIN TO RAISE THEIR CURTAINS THIS FALL, THE EPO TAKES THEIR CUE AND WELCOMES THEATREGOERS TO HEAR THE EVANSVILLE PHILHARMONIC PERFORM MUSIC FROM HAMILTON, WICKED, RENT, BEETLEJUICE, DEAR EVAN HANSEN, LION KING, JERSEY BOYS, AND MORE. ENJOY THESE BOX-OFFICE HIT MELODIES RIGHT HERE IN THE VICTORY THEATRE!
EPO PRESENTS LITERATURE IN MUSIC, ANDREA DRURY, VOCALIST ::
Date: Saturday October 16, 2021
Time: 7:00 PM



THIS CONCERT OPENS WITH THE INTOXICATING, WHIRLING ASCENDING BIRD, CO-WRITTEN BY AMERICAN COMPOSER COLIN JACOBSEN AND PERSIAN COMPOSER SIAMAK AGHAEI. THE MISCHIEF, MYTHICAL FAIRIES AND INNOCENT LOVERS THAT SHAKESPEARE BROUGHT TO LIFE IN HIS A MIDSUMMER NIGHT'S DREAM ARE MAGICALLY PORTRAYED THROUGH MENDELSSOHN'S INCIDENTAL" MUSIC. YOU'LL RECOGNIZE THE "OVERTURE," "NOCTURNE" AND OF COURSE, THE "WEDDING MARCH." SEMI-STAGED VERSION, COMPLETE WITH PROPS, LIGHTING, COSTUMES AND ACTORS.
EPO PRESENTS FAMOUS LOVE STORIES, ANGELA BROWN, SOPRANO ::
Date: Sunday November 14, 2021
Time: 4:00 PM



EXPERIENCE TWO LEGENDARY AND POWERFUL LOVE STORIES IN ONE INCREDIBLE NIGHT! PROKOFIEV'S ELECTRIFYING AND LUSCIOUS MUSIC FROM ROMEO & JULIET FUSES WITH GERSHWIN'S POIGNANT AND QUINTESSENTIALLY AMERICAN PORGY & BESS TO CREATE AN EVENING OF SWEEPING EMOTION AND DRAMA. OUR WONDERFUL SINGERS, ANGELA BROWN AND REGINALD SMITH, JR. SING GERSHWIN'S CLASSICS LIKE "SUMMERTIME" AND "I GOT PLENTY OF NUTTIN'," WHILE PROKOFIEV'S "BALCONY SCENE" WILL MOVE YOU TO TEARS AND "DEATH OF TYBALT" WILL LEAVE YOU SPEECHLESS.