View All Events
Page Content
<
November 2020
>
Lewis Black It Gets Better Every Day
November 7, 2020 @ 07:00 PM
LEWIS BLACK, GRAMMY Award-winning, stand-up comedian announces 2020 tour, 'It Gets Better Every Day.' "When I say, 'It gets better every day,' you might be wondering, 'is he being facetious?' Come to the show and find out. Or stay home and wallow in your sadness." Black is one of the most prolific and popular performers working today. He executes a brilliant trifecta as a stand-up comedian, actor, and author. Receiving critical acclaim, he performs more than 200 nights annually, to sold-out audiences throughout Europe, New...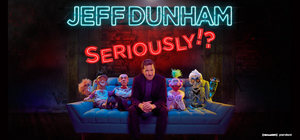 Jeff Dunham - Seriously!?
November 22, 2020 @ 03:00 PM
For more than twelve years, Jeff Dunham and his delightfully twisted cohorts, Peanut, Walter, José Jalapeño, Bubba J. and Achmed the Dead Terrorist, have filled arenas across the U.S. and the world with their multiple blockbuster tours. Jeff and his world-famous cast of characters are currently on their brand-new international tour, "JEFF DUNHAM: SERIOUSLY!?", crisscrossing North America, Canada and Europe. In addition to his usual cast of irreverent accomplices, "SERIOUSLY!?" includes the newest member of the troupe, "Larry." As...