View All Events
Page Content
<
October 2020
>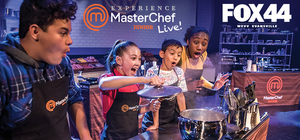 MasterChef Junior Live!
October 27, 2020 @ 06:30 PM
Victory Theatre MasterChef Junior Live! show will feature Malia (Season Seven Finalist), Mikey (Season Six), Reid (Season Six), and Quani (Season Six) Tickets start at $49 and can be purchased at MasterChefJuniorLive.com, VictoryTheatre.com, and Ford Center Ticket Office. Kids tickets are available in all price levels, and are $5 less than adult ticket price. Group discounts are available, and can be purchased at Ford Center Ticket Office or by calling 812.422.1515. Attended by packed audiences in 16 cities during its debut tour this...