Breaking News
Brought to you by

Breaking News Article JUST ANNOUNCED: Tony Bennett will be coming to Victory Theatre November 1. Tickets ON SALE NOW!
View All Events
Page Content
<
October 2019
>
Clear Bag Policy
October 1, 2019 @ 12:00 PM
LET'S GET CLEAR, ON OUR NEW CLEAR BAG POLICY As a part of an ongoing commitment to safety and security, aligning with the best practices at major entertainment and athletics venues, the Ford Center and Victory Theatre will institute a Clear Bag Policy effective October 1, 2019 for all Events held in both venues. Each fan may carry one bag that is clear plastic, vinyl, or PVC no larger than 12" x 6" x 12" or a one-gallon clear plastic freezer bag (Ziploc bag or similar). In addition to one of the clear bags...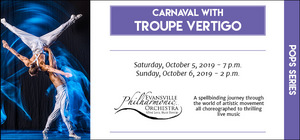 CARNAVAL WITH TROUPE VERTIGO
October 5, 2019 @ 07:00 PM
From Venice and Rio to New Orleans, we fuse the sounds of Carnaval with elements of Cirque-style acrobatics and classical dance. Troupe Vertigo takes you on a spellbinding journey through the world of artistic movement - All choreographed to thrilling live music. Brace yourself for a delightful night of entertainment with world-class aerial artists, contortionists and dancers.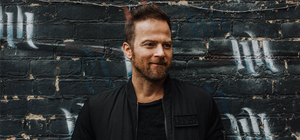 Kip Moore
October 12, 2019 @ 07:00 PM
KIP MOORE ROOM TO SPARE: ACOUSTIC TOUR W/ SPECIAL GUEST KYLIE MORGAN Kip Moore often lies awake in bed at night. Melodies and lyrics swirl through his head. Sometimes they'll dissipate as seamlessly as they first arrived. Other times, the singer-songwriter can do nothing but begin singing them aloud. It frees his ever-churning mind. It allows him to continually discover his own voice. It grounds him. Most importantly, for a man prone to bouts of self-doubt, it reassures Moore that his path is a righteous one. "I have a complete sense of calm right now," the...
The Music of Randy Travis
October 17, 2019 @ 07:00 PM
Victory Theatre is excited to add The Music of Randy Travis to their fall lineup. This will be the first time Randy Travis and his band has toured in 5 ½ years. The Music of Randy Travis will have the original Randy Travis band and feature guest vocalist James Dupré who will perform all sixteen #1 Randy Travis hits and include a special appearance with Randy Travis , himself. About Randy Travis Very few figures in Country Music stand out as signposts along the way, the trendsetters who fearlessly predict and influence the future of...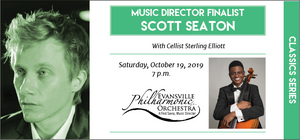 SCOTT SEATON AND STERLING ELLIOTT
October 19, 2019 @ 07:00 PM
Under the direction of Conductor Finalist Scott Seaton, the Orchestra begins the concert with Michael Torke's "ASH" and its unique and intriguing fusion of classical and pop with a vibrant, contemporary sound. Tchaikovsky's graceful and popular Rococo Variations will showcase Cellist Sterling Elliott's ability to play long, lyrical melodies cadenzas, trills and double stops. The evening concludes with Beethoven's dynamic Fourth Symphony.