Breaking News
Brought to you by

Breaking News Article JUST ANNOUNCED: AMY GRANT IS COMING TO VICTORY THEATRE MAY 2. TICKETS ON SALE NOW!
View All Events
Page Content
<
May 2019
>
Evansville Philharmonic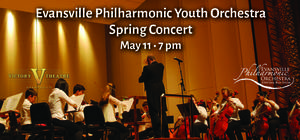 EVANSVILLE PHILHARMONIC YOUTH ORCHESTRA SPRING CONCERT
May 11, 2019 @ 07:00 PM
THE EVANSVILLE PHILHARMONIC YOUTH ORCHESTRAS (EPYO & EPYO II) WILL PRESENT THEIR FALL CONCERT ON SATURDAY, MAY 11 AT 7:00 P.M. ON THE VICTORY THEATRE STAGE. EPYO II CONSISTS OF TRI-STATE STUDENTS IN GRADES 6-9, AND EPYO INCLUDES TRI-STATE STUDENTS IN GRADES 9-12. THIS PERFORMANCE IS THE LAST OPPORTUNITY THIS SEASON FOR THESE OUTSTANDING YOUNG PEOPLE TO SHOWCASE THEIR TALENTS.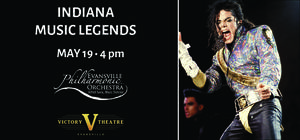 INDIANA MUSIC LEGENDS
May 19, 2019 @ 04:00 PM
OUR POPS FINALE SHOWCASES THE INCREDIBLE WEALTH OF MUSIC BY HOOSIER 20 TH CENTURY POP MUSIC ICONS FROM COLE PORTER AND HOAGY CARMICHAEL TO JOHN MELLENCAMP AND AMERICAN SUPERSTAR LEGEND MICHAEL JACKSON. THE ORCHESTRA IS JOINED BY EVANSVILLE'S OWN LEGENDS, GINA AND JOAN MOORE-MOBLEY, "THE BROWNE SISTERS."