Breaking News
Brought to you by

Breaking News Article JUST ANNOUNCED:DWIGHT YOAKAM TICKETS FOR FEBRUARY 27 ON SALE NOW!
View All Events
Page Content
<
May 2019
>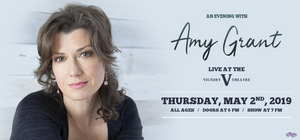 Amy Grant
May 2, 2019 @ 07:00 PM
Conventional wisdom has it that Amy Grant put Contemporary Christian Music on the map, becoming the first CCM artist to have a platinum record, the first to hit No. 1 on the Pop charts, and the first to perform at the GRAMMY Awards. Since then, Grant has been strumming her way through a 30-plus year adventure as a singer-songwriter, author, television host and speaker. Early on, Grant's iconic voice became instantly recognizable in both the Christian and pop worlds, some even dubbing her the "Queen of Christian Pop." Over the years, she has sold more than 30 million...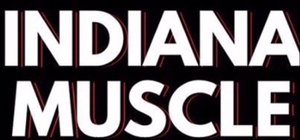 NPC Indiana Muscle
May 4, 2019 @ 10:00 AM
The NPC INDIANA MUSCLE is a National Qualifying Event. Competitors from all over the country as well as local athletes participate in this event. The Women's division's are Bikini, Figure and Physique. The Men's are Bodybuilding, Classic Bodybuilding and Men's Physique. For the evening Finals Awards are presented to the top 5 in each class with a Overall Winner showdown in each division. The INDIANA MUSCLE is one of a kind for this area and only happens once a year! VIP - GA (First 12 Rows/ Balcony Access) - $51 Finals - GA - $28 ...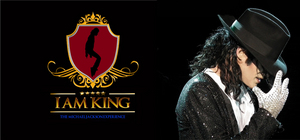 I am King - The Michael Jackson Experience
May 9, 2019 @ 07:00 PM
The Michael Jackson Experience is as close as you will get to seeing the King of Pop live in concert! Don't miss this unforgettable night, May 9 at Victory Theatre! Featuring Michael Jackson tribute artists who can sing LIVE while mastering the intense dancing that Jackson was so famous for , I AM KING takes the audience on a musical and visual journey into the world of the KING OF POP. The creators of I AM KING have put together an incredible cast of talented musicians and Broadway and Las Vegas dancers to bring Jackson to life in an explosion of...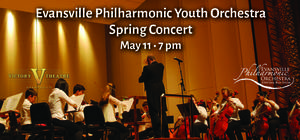 EVANSVILLE PHILHARMONIC YOUTH ORCHESTRA SPRING CONCERT
May 11, 2019 @ 07:00 PM
THE EVANSVILLE PHILHARMONIC YOUTH ORCHESTRAS (EPYO & EPYO II) WILL PRESENT THEIR FALL CONCERT ON SATURDAY, MAY 11 AT 7:00 P.M. ON THE VICTORY THEATRE STAGE. EPYO II CONSISTS OF TRI-STATE STUDENTS IN GRADES 6-9, AND EPYO INCLUDES TRI-STATE STUDENTS IN GRADES 9-12. THIS PERFORMANCE IS THE LAST OPPORTUNITY THIS SEASON FOR THESE OUTSTANDING YOUNG PEOPLE TO SHOWCASE THEIR TALENTS.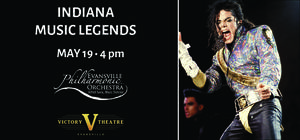 INDIANA MUSIC LEGENDS
May 19, 2019 @ 04:00 PM
OUR POPS FINALE SHOWCASES THE INCREDIBLE WEALTH OF MUSIC BY HOOSIER 20 TH CENTURY POP MUSIC ICONS FROM COLE PORTER AND HOAGY CARMICHAEL TO JOHN MELLENCAMP AND AMERICAN SUPERSTAR LEGEND MICHAEL JACKSON. THE ORCHESTRA IS JOINED BY EVANSVILLE'S OWN LEGENDS, GINA AND JOAN MOORE-MOBLEY, "THE BROWNE SISTERS."