Breaking News
Brought to you by

Breaking News Article JUST ANNOUNCED:NOEL THE MUSICAL IS MAKING A STOP AT VICTORY THEATRE ON DECEMBER 7. TICKETS GO ON SALE FRIDAY, SEPTEMBER 21 AT 10 AM!
View All Events
Page Content
<
February 2019
>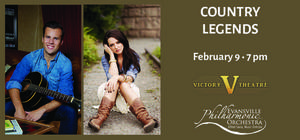 COUNTRY LEGENDS
February 9, 2019 @ 07:00 PM
HEAR A TRIBUTE TO THE GREATEST NAMES IN COUNTRY MUSIC INCLUDING SONGS BY FAMED SINGERS AND SONGWIRTERS LIKE JOHNNY CASH, HANK WILLIAMS, KENNY ROGERS, DOLLY PARTON, CARRIE UNDERWOOD, AND FAITH HILL. NASHVILLE BASED RECORDING ARTIST PATRICK THOMAS AND NASHVILLE BASED COUNTRY MUSIC RECORDING ARTIST RACHEL POTTER WILL SING YOUR FAVORITE COUNTRY CLASSICS.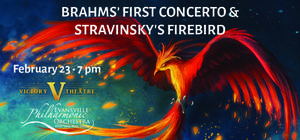 BRAHMS' FIRST CONCERTO AND STRAVINSKY'S FIREBIRD!
February 23, 2019 @ 07:00 PM
AMERICAN PIANIST NORMAN KRIEGER RETURNS TO PERFORM THE INTENSELY ROMANTIC AND PASSIONATE BRAHMS' "PIANO CONCERTO NO. 1." IGOR STRAVINSKY'S BALLET "FIREBIRD" BECAME AN INSTANT SUCCESS AND THE SUITE FROM THE BALLET REMAINS HIS MOST POPULAR ORCHESTRAL WORK. EXPERIENCE THE CAPTIVATING SCORE AND MESMERIZING STORY OF A MYSTICAL BIRD WITH FIERY RED FEATHERS.