View All Events
Page Content
<
November 2018
>
Evansville Philharmonic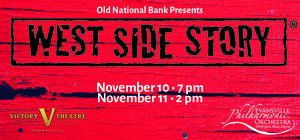 OLD NATIONAL BANK PRESENTS WEST SIDE STORY IN CONCERT
November 10, 2018 @ 07:00 PM
NOVEMBER BRINGS "WEST SIDE STORY," THE MONDERN DAY RETELLING OF THE STORY OF "ROMEO & JULIET" THROUGH THE RIVAL GANGS OF NEW YORK CITY'S JETS & SHARKS. FEATURING AN EXCITING MIX OF JAZZ AND LATIN MUSIC, "WEST SIDE STORY" INCLUDES "SOMEWHERE," "TONIGHT," AND "AMERICA." THIS CONCERT WILL FEATURE STELLAR SINGERS FROM THE BROADWAY AND OPERA STAGES.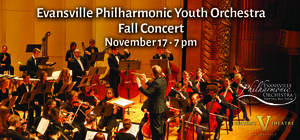 EVANSVILLE PHILHARMONIC YOUTH ORCHESTRA FALL CONCERT
November 17, 2018 @ 07:00 PM
THE EVANSVILLE PHILHARMONIC YOUTH ORCHESTRAS (EPYO & EPYO II) WILL PRESENT THEIR FALL CONCERT ON SATURDAY, NOVEMBER 17 AT 7:00 P.M. ON THE VICTORY THEATRE STAGE. EPYO II CONSISTS OF TRI-STATE STUDENTS IN GRADES 6-9, AND EPYO INCLUDES TRI-STATE STUDENTS IN GRADES 9-12. THIS PERFORMANCE IS THE FIRST OPPORTUNITY THIS SEASON FOR THESE OUTSTANDING YOUNG PEOPLE TO SHOWCASE THEIR TALENTS.