Breaking News
Brought to you by

Breaking News Article JUST ANNOUNCED: THE WORLD FAMOUS GLENN MILLER ORCHESTRA WILL PLAY AT VICTORY THEATRE OCTOBER 12. TICKETS ON SALE NOW.... THE OAK RIDGE BOYS WILL BE AT VICTORY THEATRE AUGUST 17. TICKETS ON SALE NOW!
View All Events
Page Content
<
November 2018
>
Victory Theater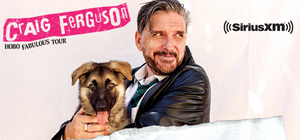 Craig Ferguson - "Hobo Fabulous" Tour
November 1, 2018 @ 07:00 PM
CRAIG FERGUSON TO EMBARK ON NORTH AMERICAN COMEDY TOUR WITH "HOBO FABULOUS" Craig Ferguson has announced the HOBO FABULOUS TOUR which will take the Grammy® nominated, Emmy® and Peabody® award winning comedian to 45+ shows across the USA and Canada including one in Evansville, IN at Victory Theatre on November 1. "What the world needs now more than ever is an ageing unhinged vagrant travelling from place to place ranting nonsense into a microphone," said...