Breaking News
Brought to you by

Breaking News Article JUST ANNOUNCED: AMY GRANT IS COMING TO VICTORY THEATRE MAY 2. TICKETS ON SALE NOW!
View All Events
Page Content
<
October 2018
>
Evansville Philharmonic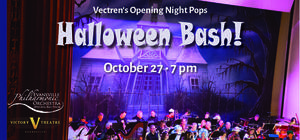 VECTREN'S OPENING NIGHT: HALLOWEEN BASH!
October 27, 2018 @ 07:00 PM
COME ENJOY A NIGHT FULL OF SPOOKY MUSIC TO GET YOU READY FOR HALLOWEEN! THIS CONCERT IS FULL OF TRICKS, TREATS, AND ENTERTAINING MUSIC! HEAR A VARIETY OF THRILLING PIECES INCLUDING RUSSELL PECK'S "THE CHILL OF THE ORCHESTRA," EDVARD GRIEDG'S "IN THE HALL OF THE MOUNTAIN KING," PLUS TUNES FROM "PSYCHO" AND OTHER FAVORITE HALLOWEEN MOVIE SCORES.