Breaking News
Brought to you by

Breaking News Article JUST ANNOUNCED: THUNDER FROM DOWN UNDER IS COMING TO VICTORY THEATRE JULY 20. TICKETS GO ON SALE FRIDAY, MAY 25 AT 10 AM.
View All Events
Page Content
<
October 2018
>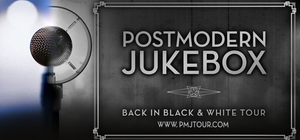 Postmodern Jukebox
October 21, 2018 @ 08:00 PM
Postmodern Jukebox is back.... Back in Black & White ! The band's non-stop throwback carnival is on the road again with their Back in Black & White Tour , kicking off this fall. PMJ has always been about using modern media to turn back the clock to a time we always imagine in shades of black and white -- simpler, more carefree, without so many mind-boggling devices and distractions, every one streaming in hi-def at any hour of the day! Of course, live entertainment was always live and in vibrant color, so PMJ offers fans the best of both worlds. PMJ shows...