Breaking News
Brought to you by

Breaking News Article JUST ANNOUNCED: COMEDIAN JEANNE ROBERTSON WILL BE AT VICTORY THEATRE JANUARY 19. TICKETS ON SALE NOW!
View All Events
Page Content
<
September 2018
>
Victory Theater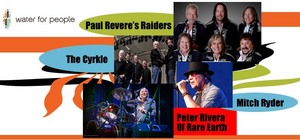 Annual Water For People Benefit Concert "Where The Action Is" Tour
September 27, 2018 @ 07:00 PM
The Indiana Section of the American Water Works Association will host their annual Water For People Benefit Concert, one of the most anticipated events of the year, on September 27th at The Victory Theatre. Anchored by Paul Revere's Raiders the "Where the Action Is Tour" is taking America by storm, 50 years after the Raiders first appeared on TV sets across the nation. One of the most popular rock groups of the 1960s, Paul Revere & The Raiders ' hits – "Steppin' Out," "Just Like Me," "Hungry," "Him...