Breaking News
Brought to you by

Breaking News Article JUST ANNOUNCED: HOME FREE IS BRINGING THEIR TIMELESS WORLD TOUR TO VICTORY THEATRE MARCH 28. TICKETS ON SALE NOW! NEEDTOBREATHE IS COMING TO VICTORY THEATRE FEBRUARY 16. TICKETS ON SALE NOW!
View All Events
Page Content
<
September 2018
>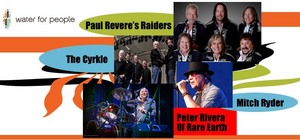 Annual Water For People Benefit Concert "Where The Action Is" Tour
September 27, 2018 @ 07:00 PM
The Indiana Section of the American Water Works Association will host their annual Water For People Benefit Concert, one of the most anticipated events of the year, on September 27th at The Victory Theatre. Anchored by Paul Revere's Raiders the "Where the Action Is Tour" is taking America by storm, 50 years after the Raiders first appeared on TV sets across the nation. One of the most popular rock groups of the 1960s, Paul Revere & The Raiders ' hits – "Steppin' Out," "Just Like Me," "Hungry," "Him...
Beethoven, Brahms and Bluegrass
September 29, 2018 @ 07:00 PM
"CANDID OVERTURE" KICKS OFF THE EVANSVILLE PHILHARMONIC'S CELEBRATION OF THE 100 TH BIRTHDAY OF LEONARD BERNSTEIN. KENTUCKY NATIVE TESSA LARK RETURNS BY POPULAR DEMAND TO PERFORM BEETHOVEN'S "SECOND ROMANCE" SHOWING OFF HER CLASICAL SKILLS, WHILE "LOVE LETTER" DISPLAYS HER VERSALTILITY IN BLUEGRASS. DANCE MUSIC BY AARON COPLAND AND JOHANNES BRAHMS ADDS TO THIS CONCERT'S FOLKSY FEEL.