Breaking News
Brought to you by

Breaking News Article JUST ANNOUNCED: CRAIG FERGUSON IS BRINGING HIS "HOBO FABULOUS" TOUR TO VICTORY THEATRE NOVEMBER 1. TICKETS ON SALE NOW!
View All Events
Page Content
<
August 2018
>
Victory Theater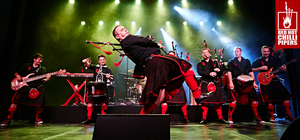 Red Hot Chilli Pipers
August 30, 2018 @ 07:00 PM
Bagpipes with attitude. Drums with a Scottish accent. A blazing rock band and show so hot, it carries its own health warning! It's Bagpipes. It's Rock. It's Bagrock. AC/DC meets the poet Robert Burns. Where rock anthems sit comfortably alongside the great tunes from the glens and the mountains of Scotland. It's The Red Hot Chilli PIPERS – (NOT the Peppers!) -- a 9-piece ensemble consisting of pipers , guitarists , keyboards , and drummers -- who have been rocking the world from New York to Beijing to Melbourne and everywhere in between...