Breaking News
Brought to you by

Breaking News Article JUST ANNOUNCED: THE WORLD FAMOUS GLENN MILLER ORCHESTRA WILL PLAY AT VICTORY THEATRE OCTOBER 12. TICKETS ON SALE NOW.... THE OAK RIDGE BOYS WILL BE AT VICTORY THEATRE AUGUST 17. TICKETS ON SALE NOW!
View All Events
Page Content
<
January 2018
>
Evansville Philharmonic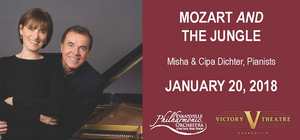 MOZART AND THE JUNGLE
January 20, 2018 @ 07:00 PM
HEAR SOME OF THE GREAT MUSIC OF MOZART, FROM HIS EARLY OVERTURE TO II RÉ PASTORE TO HIS MORE MATURE MASTERWORK, THE "HAFFNER" SYMPHONY NO. 35. LEGENDARY PIANIST MISHA DICHTER IS JOINED BY HIS WIFE AND PARTNER CIPA TO PERFORM THE CHARMING AND RARELY PERFORMED CONCERTO FOR TWO PIANOS .