Breaking News
Brought to you by

Breaking News Article JUST ANNOUNCED: WHOSE LIVE ANYWAY? THE SPIN-OFF TOUR OF THE TV HIT SHOW WHOSE LINE IS IT ANYWAY? WILL BE COMING TO VICTORY THEATRE APRIL 18. TICKETS ON SALE NOW. IN THIS MOMENT WILL BE AT VICTORY THEATRE FEBRUARY 6, TICKETS ON SALE NOW
View All Events
Page Content
<
April 2017
>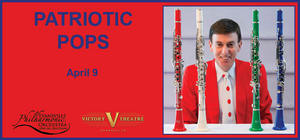 Patriotic Pops
April 9, 2017 @ 04:00 PM
AN AFTERNOON OF TRADITIONAL PATRIOTIC FAVORITES FEATURING THE US NAVY BAND AND THE EVANSVILLE PHILHARMONIC CHORUS LED BY CARL TOPILOW, THE CHARISMATIC CONDUCTOR OF THE RENOWNED CLEVELAND POPS. PLEASE NOTE TIME IS DIFFERENT FROM OTHER SUNDAY POPS CONCERTS. ONE PERFORMANCE ONLY!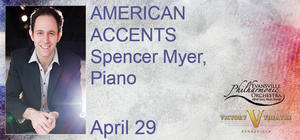 American Accents
April 29, 2017 @ 07:00 PM
LAUDED FOR "SUPERB PLAYING BY THE BOSTON GLOBE, AMERICAN PIANIST SPENCER MYER IS ONE OF THE MOST SOUGHT AFTER ARTISTS ON TODAY'S CONCERT STAGE. HEAR HIM PLAY GOTTSCHALK'S COLORFUL "GRAND TARANTELLA" AND GERSHWIN'S "MANHATTAN RHAPSODY." THE ORCHESTRA WILL PERFORM GERSHWIN'S CUBAN OVERTURE AND BARTÓK'S "CONCERTO FOR ORCHESTRA", WRITTEN AFTER HIS MOVE TO AMERICA FROM HUNGARY IN 1940.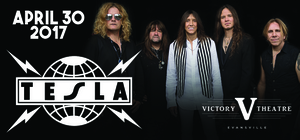 Tesla
April 30, 2017 @ 07:30 PM
The 21st century has become something of a renaissance for Tesla. Most recently, 2014's Simplicity bowed at No. 14 on the Billboard Top 200. The group ignited ABC's Jimmy Kimmel LIVE! in addition to scorching stages at festivals such as Rocklahoma , Graspop Metal Meeting and Sweden Rock Festival as well as the cruise Monsters of Rock! Tesla's music is often referred to as heavy metal, but better described as blues metal, as the band's lyrics stray from the themes popular in heavy metal, particularly those in the 1980s around the...