Breaking News
Brought to you by

Breaking News Article JUST ANNOUNCED: CRISS ANGEL RAW: MINDFREAK UNPLUGGED IS COMING TO VICTORY THEATRE JANUARY 19. TICKETS GO ON SALE FRIDAY, DECEMBER 6 AT 10AM. SAM BUSH IS COMING TO VICTORY THEATRE FEBRUARY 8. TICKETS GO ON SALE FRIDAY, DECEMBER 6 AT 10AM.
View All Events
Page Content
<
December 2019
>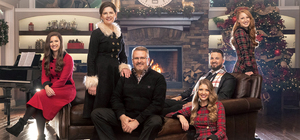 Collingsworth Family Christmas Tour
December 4, 2019 @ 07:00 PM
About The Collingsworth Family Excitement, spiritual anointing, family-emphasis, and musical excellence are what you can expect to find when you step across the threshold of the auditorium for an Evening of Family Worship and Praise with The Collingsworth Family. Since their first engagement together as musicians for a church camp in Petersburg, Michigan in August, 1986 until now, the ministry God has given Phil & Kim has expanded and flourished until it is a full-time livelihood that involves their entire family. Their boundaries of influence have expanded until...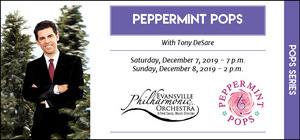 PEPPERMINT POPS
December 7, 2019 @ 07:00 PM
Back by popular demand, Tony Deesare gets you in the holiday spirit with his fresh take on old-school class. Desare is an acclaimed singer, pianist and songwriter who has performed everywhere from jazz clubs to Carnegie Hall! He sings your favorite Christmas classics like Jingle Bells, Have Yourself A Merry Little Christmas and I'll Be Home For Christmas in the enduring style of Bing Crosby and Frank Sinatra.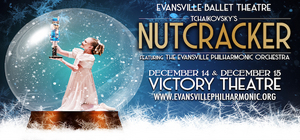 Evansville Ballet Theatre: Nutcracker
December 14, 2019 @ 07:00 PM
Evansville Ballet Theatre presents NUTCRACKER. Mark Bush, Artistic Director of Evansville Ballet Theatre, brings one of the most beloved ballets to life as it is performed in the historic Victory Theatre. This annual holiday tradition features live orchestral music by the Evansville Philharmonic Orchestra and live choir music from the Evansville Children's Choir. Support Evansville's LOCAL arts community as Tchaikovsky's enchanting notes weave a magical tale as Clara dreams of her adventures in the Land of Sweets. Nutcracker will delight...