Evansville Philharmonic Orchestra
Founded in 1934 and currently led by music director Alfred Savia, the Evansville Philharmonic Orchestra (EPO) is the largest arts employer in the region, supporting 80 full-time musicians from diverse backgrounds. Many of the musicians have graduated from the finest music schools in the country, including Indiana University and the University of Evansville. The Evansville Philharmonic Orchestra is committed to delivering exceptional music experiences that connect and strengthen the Evansville community.
Each year the programming runs from September through May and offers an experience of passion, emotion, and energy to thousands of people, including: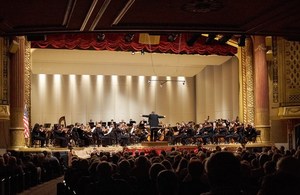 6-concert Classics Series
6-concert Pops Series
6 Educational Youth Concerts
Handel's Messiah by Candlelight
Tchaikovsky's The Nutcracker in collaboration with Evansville Ballet
The Evansville Philharmonic highlights music as a legitimate pursuit that will enrich a person's development, self-esteem, and ties to the community.
BEETHOVENíS NINTH (& FIRST) ::
Date: Saturday April 27, 2019
Time: 7:00 PM



HEAR THE EVANSVILLE PHILHARMONIC PERFORM BEETHOVEN'S FIRST AND NINTH SYMPHONIES FROM THE CLASSICAL AND ROMANTIC ERAS OF MUSIC. THE MONUMENTAL "NINTH SYMPHONY" IS A FITTING AND TRIUMPHANT FINALE TO MAESTRO SAVIA'S 30TH ANNIVERSARY SEASON. THE FOURTH MOVEMENT INCLUDES THE RAPTUROUS "ODE TO JOY" WITH FULL CHORUS AND SOLOISTS.
EVANSVILLE PHILHARMONIC YOUTH ORCHESTRA SPRING CONCERT ::
Date: Saturday May 11, 2019
Time: 7:00 PM



THE EVANSVILLE PHILHARMONIC YOUTH ORCHESTRAS (EPYO & EPYO II) WILL PRESENT THEIR FALL CONCERT ON SATURDAY, MAY 11 AT 7:00 P.M. ON THE VICTORY THEATRE STAGE. EPYO II CONSISTS OF TRI-STATE STUDENTS IN GRADES 6-9, AND EPYO INCLUDES TRI-STATE STUDENTS IN GRADES 9-12. THIS PERFORMANCE IS THE LAST OPPORTUNITY THIS SEASON FOR THESE OUTSTANDING YOUNG PEOPLE TO SHOWCASE THEIR TALENTS.
INDIANA MUSIC LEGENDS ::
Date: Sunday May 19, 2019
Time: 4:00 PM



OUR POPS FINALE SHOWCASES THE INCREDIBLE WEALTH OF MUSIC BY HOOSIER 20TH CENTURY POP MUSIC ICONS FROM COLE PORTER AND HOAGY CARMICHAEL TO JOHN MELLENCAMP AND AMERICAN SUPERSTAR LEGEND MICHAEL JACKSON. THE ORCHESTRA IS JOINED BY EVANSVILLE'S OWN LEGENDS, GINA AND JOAN MOORE-MOBLEY, "THE BROWNE SISTERS."