Evansville Philharmonic Orchestra
Founded in 1934 and currently led by music director Alfred Savia, the Evansville Philharmonic Orchestra (EPO) is the largest arts employer in the region, supporting 80 full-time musicians from diverse backgrounds. Many of the musicians have graduated from the finest music schools in the country, including Indiana University and the University of Evansville. The Evansville Philharmonic Orchestra is committed to delivering exceptional music experiences that connect and strengthen the Evansville community.
Each year the programming runs from September through May and offers an experience of passion, emotion, and energy to thousands of people, including: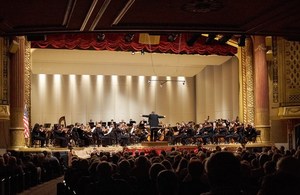 6-concert Classics Series
6-concert Pops Series
6 Educational Youth Concerts
Handel's Messiah by Candlelight
Tchaikovsky's The Nutcracker in collaboration with Evansville Ballet
The Evansville Philharmonic highlights music as a legitimate pursuit that will enrich a person's development, self-esteem, and ties to the community.
BRAHMS' FIRST CONCERTO AND STRAVINSKY'S FIREBIRD! ::
Date: Saturday February 23, 2019
Time: 7:00 PM



AMERICAN PIANIST NORMAN KRIEGER RETURNS TO PERFORM THE INTENSELY ROMANTIC AND PASSIONATE BRAHMS' "PIANO CONCERTO NO. 1." IGOR STRAVINSKY'S BALLET "FIREBIRD" BECAME AN INSTANT SUCCESS AND THE SUITE FROM THE BALLET REMAINS HIS MOST POPULAR ORCHESTRAL WORK. EXPERIENCE THE CAPTIVATING SCORE AND MESMERIZING STORY OF A MYSTICAL BIRD WITH FIERY RED FEATHERS.
MUSIC OF THE SPHERES ::
Date: Saturday March 16, 2019
Time: 7:00 PM



COMMEMORATING THE 50TH ANNIVERSARY OF THE MOON LANDING, JAMES BECKEL'S "FROM THE EARTH TO THE MOON AND BEYOND" WAS ESPECIALLY COMPOSED FOR THIS OCCASION. IN AN EDUCATIONAL COLLABORATION, 150 MEMBERS OF THE EPO AND THE EVANSVILLE PHILHARMONIC YOUTH ORCHESTRA JOIN FORCES FOR A PERFORMANCE OF GUSTAV HOLST'S SERENE WORK "THE PLANETS."
CRESCENT, CRESLINE, WABASH FOUNDATION PRESENTS GARLAND TO GERSHWIN ::
Date: Saturday April 06, 2019
Time: 7:00 PM



PBS PERSONALITY RICHARD GLAZIER PLAYS THE PIANO AND WEAVES IN FASCINATING COMMENTARY OF THE HISTORY BEHIND THE MUSIC OF GEORGE GERSHWIN AND JUDY GARLAND – TELLING STORIES, SHARING FUNNY ANECDOTES AND SHOWING RARE VINTAGE IMAGES AND FILM CLIPS. HE IS JOINED BY JOAN ELLISON WHO RECAPTURES JUDY GARLAND'S VOCAL SOUND AND MANNERISMS.