Evansville Philharmonic Orchestra
Founded in 1934 and currently led by music director Alfred Savia, the Evansville Philharmonic Orchestra (EPO) is the largest arts employer in the region, supporting 80 full-time musicians from diverse backgrounds. Many of the musicians have graduated from the finest music schools in the country, including Indiana University and the University of Evansville. The Evansville Philharmonic Orchestra is committed to delivering exceptional music experiences that connect and strengthen the Evansville community.
Each year the programming runs from September through April and offers an experience of passion, emotion, and energy to thousands of people, including: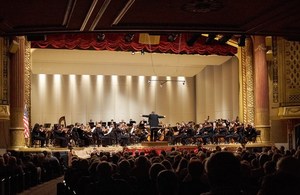 Lincoln Amphitheatre Pre-Season Concert
6-concert Classics Series
5-concert Pops Series
6-Educational Youth Concerts
2-Handel's Messiah by Candlelight (Evansville and Jasper)
Tchaikovsky's The Nutcracker in collaboration with Evansville Ballet
The Evansville Philharmonic highlights music as a legitimate pursuit that will enrich a person's development, self-esteem, and ties to the community.
SCOTT SEATON AND STERLING ELLIOTT ::
Date: Saturday October 19, 2019
Time: 7:00 PM



Under the direction of Conductor Finalist Scott Seaton, the Orchestra begins the concert with Michael Torke's "ASH" and its unique and intriguing fusion of classical and pop with a vibrant, contemporary sound. Tchaikovsky's graceful and popular Rococo Variations will showcase Cellist Sterling Elliott's ability to play long, lyrical melodies cadenzas, trills and double stops. The evening concludes with Beethoven's dynamic Fourth Symphony.
MICHELLE MERRILL AND RICHARD LIN ::
Date: Saturday November 16, 2019
Time: 7:00 PM



The sparkling "Magic Flute" Overture by Mozart begins the November Classis as Conductor Finalist Michelle Merrill takes the Victory stage. Gifted Violinist Richard Lin, an International Violin competition of Indianapolis winner performs the unforgettable Mendelssohn "Violin Concerto." Aaron Copland's American masterpiece "Appalachian Spring" perfectly captures the country life of America and "Concert Romanesc" inspired by Ligeti's Romanian childhood, transforms the Orchestra into a gigantic village band.
EVANSVILLE PHILHARMONIC YOUTH ORCHESTRAS FALL CONCERT ::
Date: Saturday November 23, 2019
Time: 7:00 PM



The Evansville Philharmonic Youth Orchestras (EPYO and EPYO II) will present their Fall Concert on Saturday, November 23 at 7:00 p.m. on the Victory Theatre stage. EPYO II consists of Tri-State students in grades 6 - 9, and EPYO includes Tri-State students in grades 9-12. This performance is the first opportunity this season for these outstanding young people to showcase their talents.