Evansville Philharmonic Orchestra
Founded in 1934 and currently led by music director Alfred Savia, the Evansville Philharmonic Orchestra (EPO) is the largest arts employer in the region, supporting 80 full-time musicians from diverse backgrounds. Many of the musicians have graduated from the finest music schools in the country, including Indiana University and the University of Evansville. The Evansville Philharmonic Orchestra is committed to delivering exceptional music experiences that connect and strengthen the Evansville community.
Each year the programming runs from September through April and offers an experience of passion, emotion, and energy to thousands of people, including: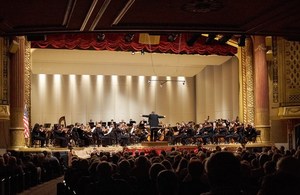 Lincoln Amphitheatre Pre-Season Concert
6-concert Classics Series
5-concert Pops Series
6-Educational Youth Concerts
2-Handel's Messiah by Candlelight (Evansville and Jasper)
Tchaikovsky's The Nutcracker in collaboration with Evansville Ballet
The Evansville Philharmonic highlights music as a legitimate pursuit that will enrich a person's development, self-esteem, and ties to the community.
GOSPEL AT THE PHIL ::
Date: Sunday February 16, 2020
Time: 4:00 PM



Join us for a soul-stirring, hand-raising celebration of faith, unity and eternal hope. The Orchestra is joined by members of the Philharmonic Chorus and singers from New Hope Baptist and other area churches to perform Gospel classics like Oh, Happy Day, Tatle Praise, His Eye Is On The Sparrow, Now Behold the Lamb and the contemporary music of Isreal Houghton, Kirk Franklin, Bebe and Cece Winans, Kurt Carr and more!
ROGER KALIA AND MENG SU ::
Date: Saturday February 29, 2020
Time: 7:00 PM



Kodaly's exotic "Dances of Galanta," inspired by a famous Gypsy band, allows Conductor inalist Roger Kalia, to bring warmth to the Victory on a winter evening. The heat continues as superstar and Gold Medalist guitarist Meng Su performs "Concierto de Aranquez." This extraordinarily beautiful work is one of the most popular of all time. The concert concludes with Mendelssohn's picturesque Symphony No. 3 including flavors of Scottish dance and folk music.
Music and Sports ::
Date: Saturday March 14, 2020
Time: 7:00 PM



Let the Evansville Philharmonic prove that music and sports do complement one another! This entertaining March Madness event will feature special guests from the athletic community, cheerleaders, fight songs, John Williams' Olympic Fanfare, and selections from classic sports movies such as Hoosiers, Rudy and Chariots of Fire.